Elmo Projectors, parts, repair and accessories
We accept Visa, Amex, Discover, MasterCard, Pay Pal
Contact us here:

orders or inquiries
P.O. Box 438
Orland Park, IL 60462-0438
708-460-9082
FAX: 708-460-9099
---
Click on the screens to visit our other pages:

| | | | | | |
| --- | --- | --- | --- | --- | --- |
| | | | | | |
---
Minimum merchandise order $35.00 in USA plus UPS.
Minimum merchandise order $45.00 International plus shipping.
Elmo Projectors, parts, and accessories
Urbanski Film is the only manufacturer in the world of original equipment specification rollers for the Elmo CL, AL, and Xenon Elmo projectors.
Visit the Urbanski Film YouTube Channel for instructional videos on Elmo repair. UrbanskiFilm YouTube Channel
ELMO 16-CL, AL ROLLER KIT EXCHANGE Replace those deteriorating rubber rollers on your Elmo. This is a complete kit of all 4 rollers. Note: Elmo rollers are now manufactured by Urbanski Film to OEM specifications...$120 (5 roller kit for magnetic/optical CL, AL machines $149) plus core deposit. Note: A $100 core deposit will be added to the 4 roller kit prices. A $125 core deposit will be added to the 5 roller kit prices. Return your worn rollers to us...we will then refund the core deposit. OR... send in your old rollers first...email us for details.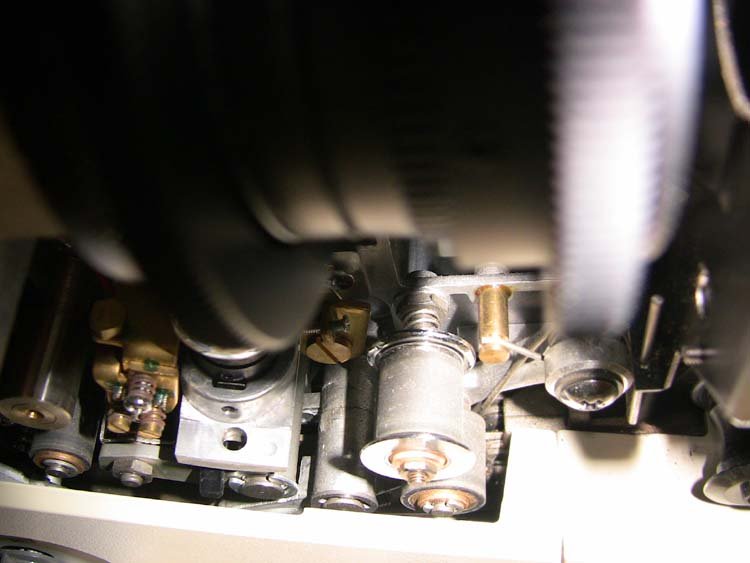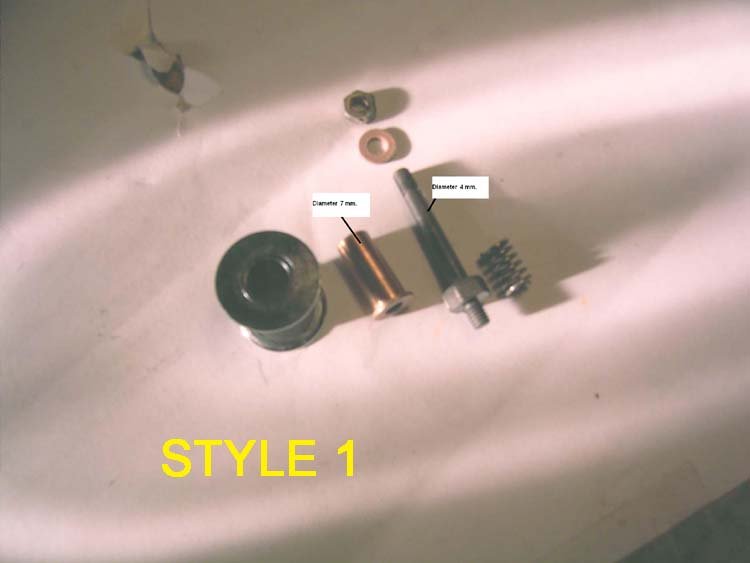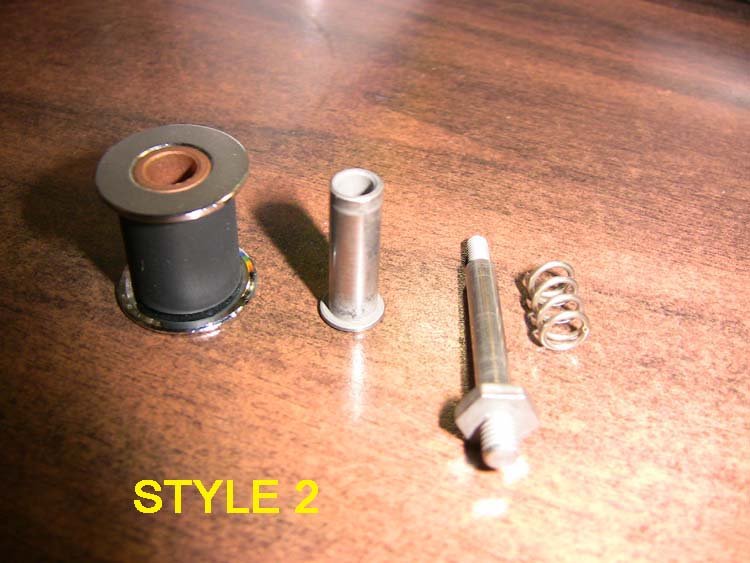 Here is a video on roller replacement. https://youtu.be/VSqzgKn09vk
When ordering you must specify roller type. Some Elmo's take a different "silver" edged flanged roller. Check on the shaft in back of the roller and see if there is a compression spring on the roller shaft. There are 2 styles with compression spring. One has a large bushing, one has a smaller bushing. Pictures are attached of the spring type rollers so we can match up the correct roller. There is also a style without a compression spring. Pictures of the spring flanged rollers are above. If there is no spring you have the standard flanged roller. Here is a video on roller types. https://youtu.be/RkfVgemKNqw
ELMO 16MM TELECINE PROJECTORS. Reconditioned. All units thoroughly checked and reconditioned unless stated. Our reconditioned units include a 90 day warranty except for bulbs. Extended warranty available at additional cost if desired.
ELMO TRV-16H Elmo transfer telecine slot load projector with a built in camera. High resolution 1/2 inch chip, 400000 pixels, 480 lines of resolution. S-VHS out, plus composite out if needed. Simply connect to your video recorder, and you will be immediately transferring professional flicker free 16mm optical sound or magnetic films in a jiffy. High resolution chip gives outstanding resolution and clarity. Connect to your analog card in your computer and you will be burning DVDs in no time. Transfers at 24 frames per second, with various computer programs you can reduce the speed to silent 18 or 16 fps for home movie transfer. Unit is thoroughly checked, and was reconditioned as needed. Presently one unit in stock, with our usual 90 day guarantee...$4000

SERVICES We offer full service and repair of Elmo Projectors. Please inquire.
PARTS, ACCESSORIES We have many 16mm Elmo parts not listed. Let us know what you need.
REAR TAKE UP ARM

REBUILD KIT FOR THE ELMO 16MM PROJECTOR.

Fits the CL, AL, and TRV models.

If the upper spindle (where the reel attaches on the rear arm) is made of metal, or dark gray plastic, this rebuild kit will upgrade the old flat belt system to the new cogged belt system . The flat belt system was changed by Elmo to a cogged belt system for better take up consistency. When the Elmo 16mm flat belt take up fails the bottom tire/roller gets gummy or loses its rubber. Even with a new flat belt, the rewind will not work properly. The solution is to replace the bottom shaft with a cogged pulley, and use the cogged belt. You will need metric allen wrenches and screwdrivers for disassembly.

This rebuild kit is NOT made to work if your projector has a WHITE upper spindle (where the reel attaches).

$70 Installation video
https://youtu.be/FsoKhoDcdH0
REAR TAKE UP ARM BELT FOR THE ELMO 16MM PROJECTOR. New cogged belt (toothed belt) to fit

the CL, AL, and TRV models.

If your projector has a White, or Dark Gray plastic upper spindle (where the reel attaches) this new belt will help "take up" issues...$25
ELMO 16MM MAINTENANCE MANUALS.
Please specify model..for the TRV-16, TRV-16G or CL.....$30
ELMO 16-CL, AL MOTOR BELT. Keeps the Elmo running smooth as silk!...$24
BELT MATERIAL KIT. We recommend this kit for Elmo 8mm/Super 8 projectors. We supply round rubber belt material...make your own belts. Works well to replace those square belts. 1/8 inch thickness....three feet belt material in a kit.. material is easily joined with a candle flame...with instructions..kit is... $10
ELMO PROJECTION AND SOUND LAMPS. Click on the Projector Lamps screen at the bottom of this page for a full selection of lamp choices.
MAGNETIC PICK UP TOOL--TELESCOPIC. Neat little pencil size tool with magnetic end. A must for servicing projectors. Keep magnetic end close when removing clips on Elmo rollers. Catches them from being lost. Retrieve screws and nuts that fall into the projector innards. Great for any mechanic application. Telescopic, extends 24 inches. $6
OILER WITH LONG REACH THIN SPOUT Ideal for lubricating projector parts..approx. 5 inch long thin tip for hard to get at places...2 ounce capacity...just fill with your favorite oil...$6
LENSES
CINEMASCOPE (ANAMORPHIC) LENS Sancor scope lens "D" (Singer or ICECO markings) attaches directly to your Elmo prime lens......like new condition....$350.00
FILMOVARA ZOOM LENS. This zoom lens screws into the front of your present lens giving you a picture approximately 25% BIGGER, or 25% smaller....a quality Bell and Howell zoom lens with a special adaptor to fit the Elmo…$135
---
---
We accept Visa, Amex, MasterCard, and Discover, Pay Pal.
---
Click on the screens to visit our other pages:

| | | | |
| --- | --- | --- | --- |
| | | | |
---

16mm Films and Equipment
Contact us here:

orders or inquiries
P.O. Box 438
Orland Park, IL 60462
708-460-9082
FAX: 708-460-9099
---